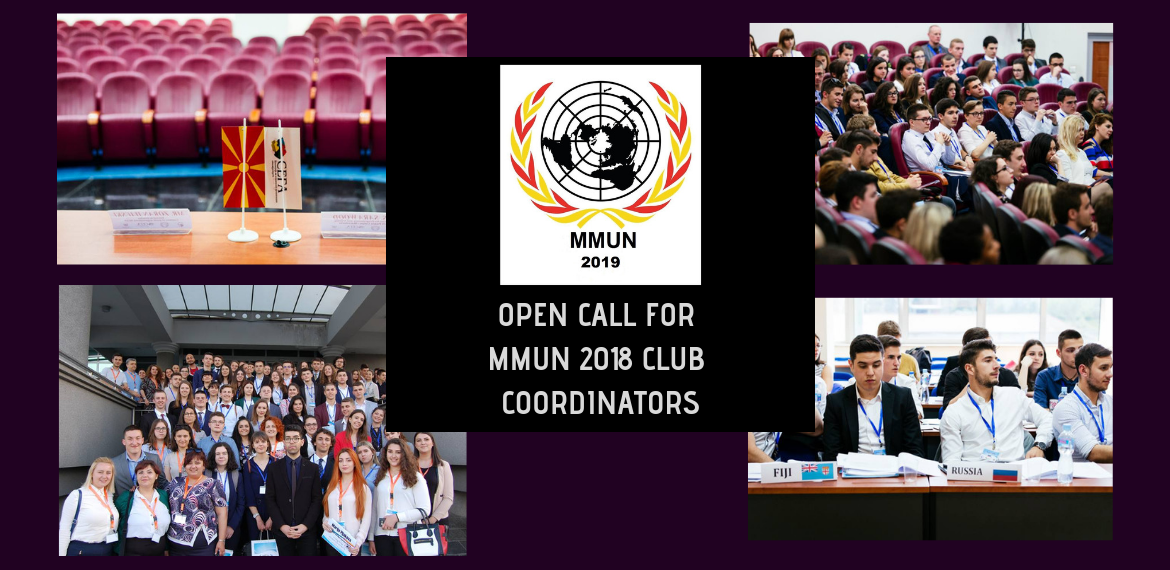 Call for MMUN 2019 Club Coordinators
Coalition Sega officially announces the open call for Club Coordinators. See information below regarding the requirements and responsibilities.
Coalition of youth organizations SEGA implements the Macedonia Model United Nations (MMUN) programme. Macedonia Model United Nations (MMUN) is a program that encourages youth in high school and college throughout Macedonia to engage in current events, and develop an improved understanding of diplomacy and cross-cultural collaboration. MMUN is not politically affiliated; it encourages free speech and democratic processes. It empowers youth to develop solutions based on constructive debate with their peers, challenging them to gain a better understanding of world issues and complex topics.
So far seven national conferences of the United Nations Model have been organized by Coalition Sega in Macedonia (2012 - 2018) and we are starting with preparations for the next 2019 MMUN Conference. This year, MMUN is changing formats, allowing for improved engagement across Macedonia. This new model will allow for youth to improve life skills while they prepare for the final conference 2019. In order for youth to participate in the conference, they must be involved in local clubs. This is where you come in, as all clubs must be led by a Club Coordinator at a local NGO in their community. We invite all organizations to establish these MMUN clubs as they are a great way to increase engagement with your organization and your work in the community.
Main responsibilities of Club Coordinators include:
Advertising MMUN in High Schools and Colleges in order to get more participants.
Teaching sessions leading up to the MMUN conference in March. 
Selecting Club Leaders
All interested candidates for Club coordinators should fit the following criteria:
Must be involved with organization/school
Organizational skills
Excellent English skills (writing and fluent speaking);
Excellent communication skills;
Ability to work with team
All applicants are required to submit:
Motivation (cover) letter;
CV; and
Complete documentation you should submit to This email address is being protected from spambots. You need JavaScript enabled to view it. no later than 15 December 2018.
Representatives of member organizations of SEGA will have advantage in the selection process.
Selected Club Coordinators will attend a training that will provide more information regarding Club Coordinator responsibilities.
For any additional information related to this call please contact with: Elena Lazova This email address is being protected from spambots. You need JavaScript enabled to view it.
---