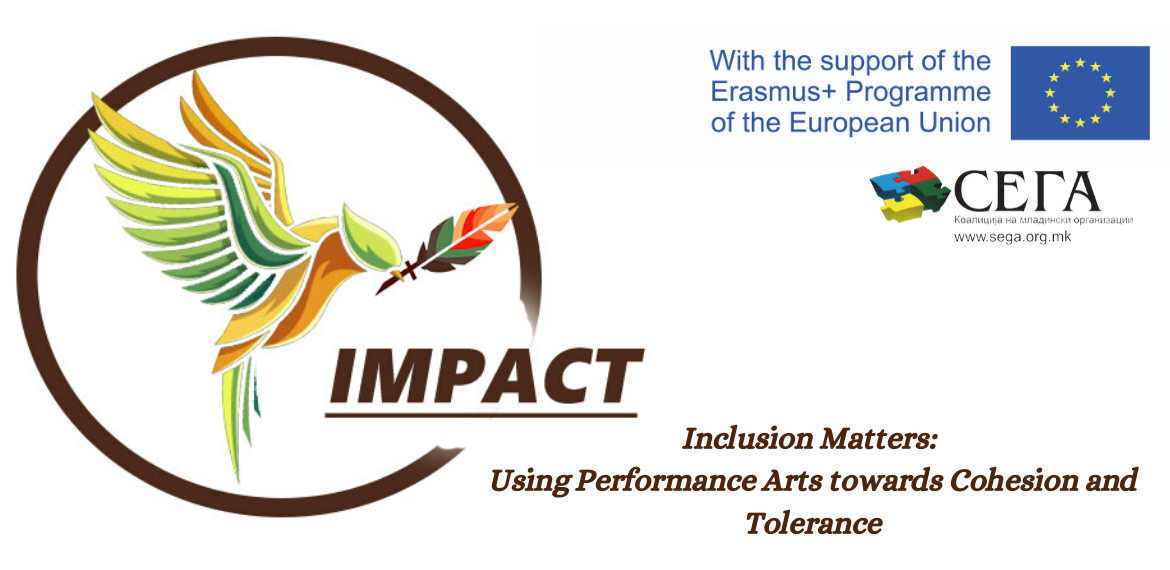 IMPACT - Inclusion Matters! Using Performing Arts towards Cohesion and Tolerance
Start: 01-03-2019 - End: 28-02-2021

Project Reference: 2018-3-DK01-KA205-059864

EU Grant: 182946 EUR
Today, we are facing increased growth of xenophobic attacks and rhetoric in Europe and with a new phenomenon in the Balkan states: as of 2018, the Balkan countries are experiencing a new influx of refugees from Africa and the Middle East and a corresponding increase in asylum applications. That is why through the IMPACT project partners from EU and the Western Balkan countries strive to build a better understanding, tolerance and solidarity between refugees and European public to prevent radicalisation and the creation of "otherness" on both sides.
The main goal of "IMPACT – Inclusion Matters! using Performing Arts towards Cohesion and Tolerance" is to foster social inclusion by developing art strategies, techniques and methodologies which target refugees and citizens at local level. This project will contribute to foster social inclusion by promoting active participation, cohesion, tolerance and respect of human rights. The project aims to develop an innovative pedagogy that uses art forms as a means to bring young refugees, asylum seekers and local communities together. Within this project, by training artists who will develop new tools and methodologies on performing arts to work with refugees and citizens, youth, local, regional and international stakeholders will become multipliers of this project outputs, ideas and methodology.
Main 3 actions of the project
Transnational meetings and exchange of practices which aim to coordinate and implement well the activities as well as strengthen the competences of project partners and artists involved in the process.
Multiplier events through local workshops, local events and international event which are key for dissemination of results. The local activities will be implemented in all partner countries.
Intellectual outputs to be produced in coordination with all partners and are the main communication tools outputs to reach all stake holders and raise awareness.
Target groups directly involved in the project activity
Artists, refugees, local citizens, audiences, local Authorities and other relevant stakeholders and participating organisations.
Project Partners
IMPACT is led by applicant organisation VIFIN – Videnscenter for Integration, Denmark with the consortium of partners the European Association for Local Democracy (ALDA), France; La Piccionaia, Italy; the Local Democracy Agency (LDA) Montenegro; the Local Democracy Agency (LDA) Mostar, Bosnia and Herzegovina; the Coalition of youth organisations SEGA, North Macedonia; the Association for Developing Voluntary Work Novo Mesto (DRPDNM), Slovenia and the Urban Development Center, Serbia.