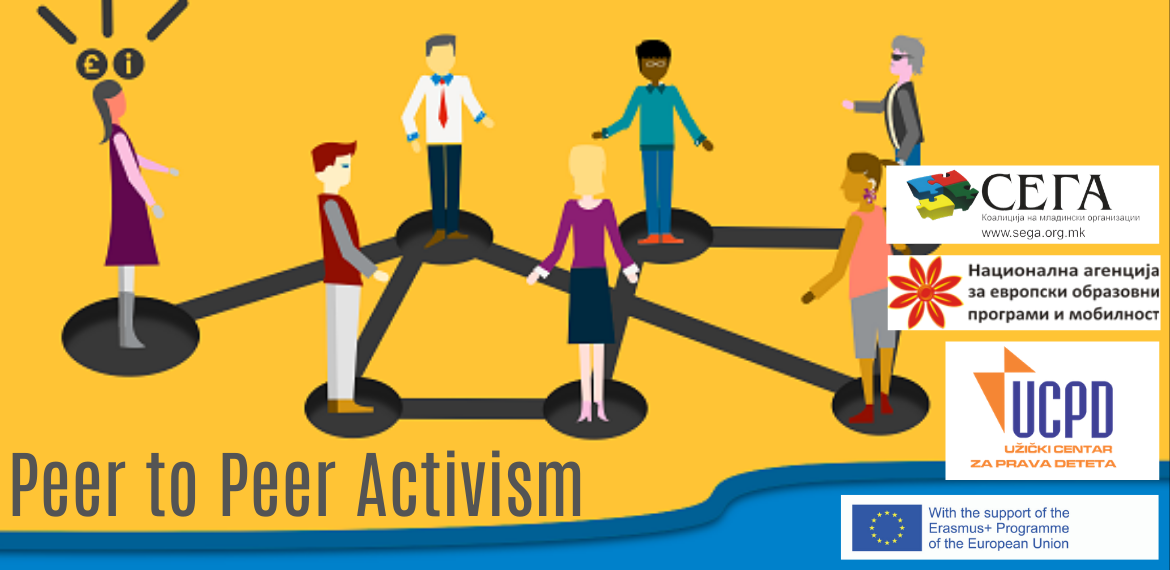 Peer to Peer Activism
Start: 01-09-2019 - End: 31-08-2020

Project Reference: 2019-2-MK01-KA105-060544

EU Grant: 6256 EUR
Objectives
The overall objective of the project: To strengthen the competencies and skills of young people of North Macedonia and Serbia to become peer educators.
Specific objective: To increase youth participation and activism and strengthen youth cooperation through youth mobility in the region and peer to peer education.
This project will address issues of lack of youth activism and participation.
This project aims at increasing awareness on youth participation, youth activism and the possibilities of young people creating and influencing the policies closely related to them. Working directly with youth, on building the capacities and promoting youth mobility in the region, we will strengthen cross-border and youth cooperation.
Activities
The project will be realized by The Coalition of youth organizations SEGA from North Macedonia and Uzice Child Rights Centre from Serbia who have long term cooperation history started in 2008. Both organizations are very active in the field of child participation and youth activism and significant experience in the realization of educational and exchange activities with children and youth.
The activities include a set of preparatory workshops and task-related activities. Implementation of a youth exchange - in Struga, North Macedonia both based on youth activism, youth participation in the decision making processes intercultural education and active youth engagement in promotion and dissemination of those values in their communities. Participants to the planned youth exchanges will be children and youth aged 15 -18, a secondary school student from Prilep and Kavadarci, North Macedonia and Uzice, Serbia. The youth exchange will gather 30 participants and 4 group leaders.
After the youth exchange, the participants will implement individual knowledge and skills transfer plan (peer to peer education) which they will develop during the exchanges. Each participant will realize one-day workshop with in schools they attend for their peers on one or more topics covered during the exchanges. In this
process, they will realize a total of 30 one day workshops for approximately 30 participants per each
workshop - 900 participants in total (450 from North Macedonia and 450 from Serbia). Target groups for those workshops will be peers of youth exchange participants, from their classes or schools.
Impact
The results of the envisaged activities are realistically feasible. The main result of the project is the strengthened capacities of 30 young people from North Macedonia and Serbia with new innovative methods and tools for peer to peer education. Youth developed skills, knowledge and competencies relevant for
active participation and its mechanisms.
The follow-up activities will cover more than 900 young people (secondary school students age 15-18) who will be educated for the mechanisms of youth participation in the decision making processes and engaged for youth activism.