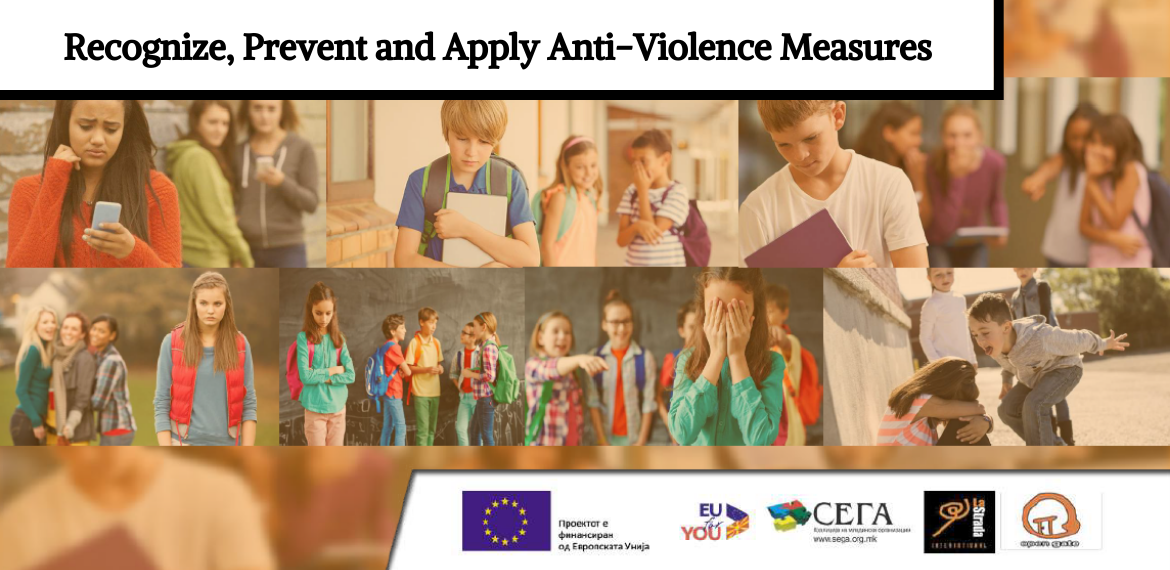 Recognize, Prevent and Apply Anti-Violence Measures
Start:  01.01.2019 - End: 31.10.2019
The "Recognize, Prevent and Apply Anti-Violence Measures" project aimed to contribute to national efforts to improve and strengthen the capacity of state and local institutions to address violence in educational institutions. The activities of the project proposal directly involved students, professional services in schools, teachers and educational institutions in the analysis of the current situation and security measures, teacher and student training and the campaign. The project conducted an independent and objective research on existing measures and mechanisms for the prevention of violence in educational institutions and by proposing conclusions and recommendations from the Analysis that influence the process of their acceptance and recognition by the relevant institutions.
At the same time, the project established cooperation between civil society organizations and educational institutions in the field of prevention and management of violence. Through the project activities, the organization had the opportunity to build its capacities through lobbying to tackle the problem of violence in schools.
Of particular importance, the project was for the community because of the increasing number of cases of violence in schools lately, due to a variety of factors, which in turn has contributed to the emergence of violence in various forms.
Тhe mission of our organization is related to improving the general state of youth and developing and implementing youth policies in the Republic of Macedonia, this project was of particular importance in improving the safety of students in schools, and if we manage to increase their safety, we will improve their general situation in society.
Overall objective: Improve safety measures in schools
Target groups:
15 high schools from different municipalities in the Republic of Macedonia. Macedonia (Prilep, Bitola, Ohrid, Struga, Kavadarci, Stip, Kicevo and Strumica).
1500 students aged 15-18 years.
30 professors and representatives of professional services
Institutions concerned by the problem under investigation with the project proposal (SWC, BDE, MoI, MoES)
The project achieved the following results:
Determined the existence and management of violence in 15 schools.
Enhanced knowledge and skills of school staff in 15 schools for identifying, preventing and dealing with violence
The proposed measures have been accepted by the relevant institutions.
The project is funded by La Strada's Small Grants Program through the project "Strategic Partnership for Change: Recognize, Respect and Realize Rights!" With EuropeAid / 155322 / DD / ACT / MK IPA / 2017 / 392-541. The project is funded by the European Union.