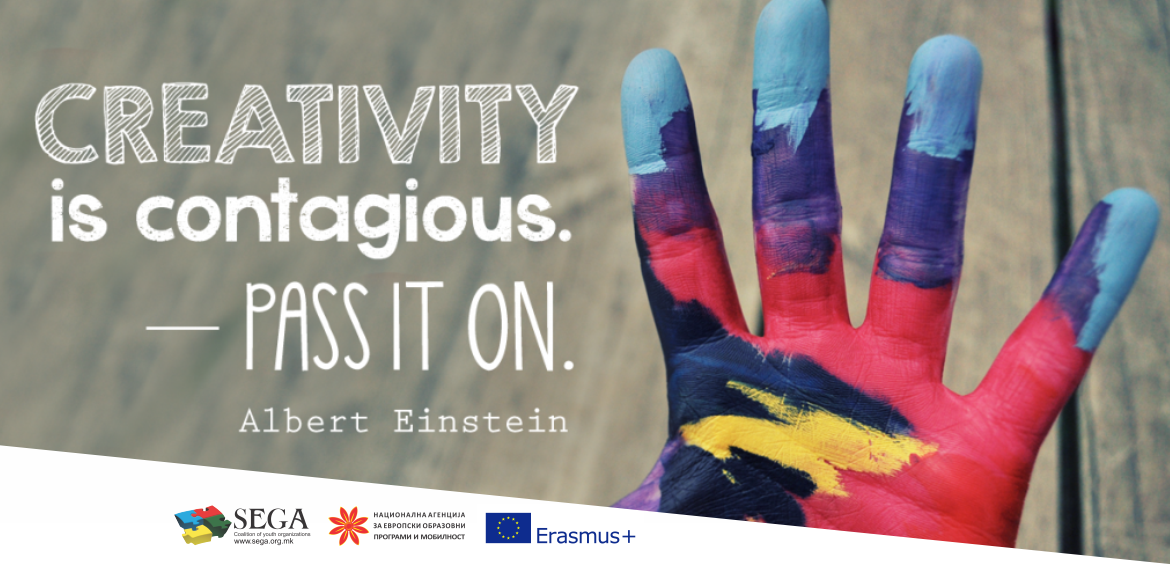 Youth Creativity Club
Start: 01-01-2017 - End: 30-06-2018
Project Reference: 2016-3-MK01-KA105-035092
EU Grant: 21339.99 EUR
The Group EVS project entitled "Youth creativity club" is a long term volunteering project for 12 months involving 3 volunteers from France, Romania and Turkey in local youth work activities in Kavadarci, Macedonia starting in March 2017. The volunteers will be actively involved in developing the new service "Youth creativity club" within the Youth Information and Counseling center INFO SEGA in Kavardaci. The YIC INFO SEGA Prilep and Kavadarci are projects from Coalition SEGA and they are devoted to inform, educate and counsel young people about various possibilities available for youth (studying abroad, scholarships, volunteering, trainings and seminars, events, information for employment, and etc) through providing a direct and on-line contact with youth. 
The origin of the project is to create a new service within Youth Information and Counseling center INFO SEGA Kavadarci that will be transversal to all youth and the idea is focusing the project into the subject for developing Youth creativity through various activities and language improvement. Youth creativity club project's idea is to follow‐up of the project Information Right Now where the previous Italian EVS volunteers adapted and created their activities on their own initiative after a request from local people about the lack of interest and support for creativity activities for young people and kids in Kavadarci in order to increase their confidence, creativity and cultural understanding. In order to face to these issues we developed two priorities of work: First of all, the project should aim to promote the importance of the creativity that it has to be on higher level for young people and kids trough implementing various activities connected with informal education within local schools and free creative workshops in INFO SEGA. Another objective is to increase the cultural cooperation between foreign countries and Macedonian cultures in organizing cultural and creative public events and meetings. The EU volunteers will share their experience and implement activities within the local youth and community. They will also learn and promote the traditions and the culture of Macedonia in order to extend the visibility of Macedonia and create a real inter‐cultural exchange. Youth creativity club will be a meeting point for all young people who want to learn more about developing creativity, culture by giving them useful information and organizing different activities. In the club, the young people will have the possibility to learn the foreign language. 
There are many types of activities where the volunteers will be involved such as sharing information, promotions to the other young people about Youth creativity club, running creative workshops for local young people, dance workshops, conversations and meetings with local youth and local authorities, also meetings with the representatives in Macedonia. 
There will be open space for the volunteers to implement their ideas to improve the quality of the project and encourage more and more youngsters to be active in the services delivered by them. During these experiences the volunteers as well as the youngsters will have inter-cultural learning in order to have a better understanding in each other culture.