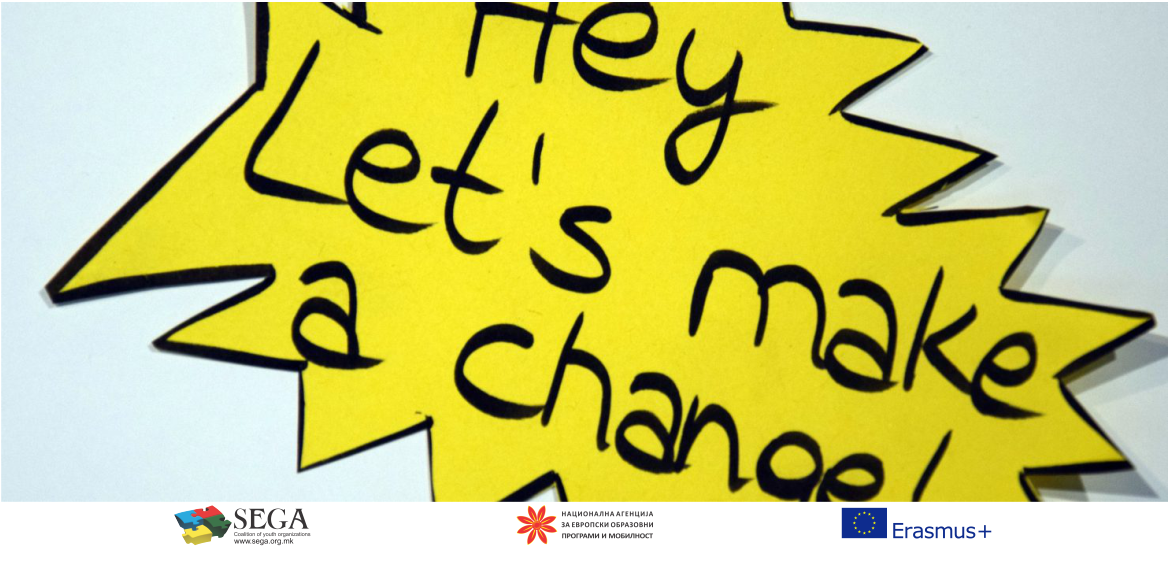 Let's Make the Change
Start: 01/03/2014
Project Reference: 549758-EVS2-1-2013-3-MK-YOUTH-Y2
Group EVS project Let's make the change is a long-term project involving 6 volunteers from EU countries (FR, IT, SP, RO and PT) in local youth work activities in Prilep, Macedonia for a period of 12 month (6 months activity for each volunteer). Three volunteers will start the project in May 2014. After their service for 6 months, three more volunteers from different countries will continue their activities from November 2014. The volunteers will be actively involved in daily work services in Youth Information and Counseling centre INFO SEGA working on different tasks, activities and projects and partly in Coalition SEGA in Prilep, Macedonia.
The volunteers will be involved into these services and themes:
INFOrmation right NOW (Youth leisure, youth information)
Youth entrepreneurial club (Youth unemployment issue, youth entrepreneurship and creativity)
INFO NOW Reporter (Discovering local culture and the country heritage).
The objectives of the project are set for the volunteers to feel the cultural and social differences. 
There are many types of activities where the volunteers will be involved such as running workshops and educations for local young people using different creative tools that can be useful for group learning and providing youth work and information linked with the local community development. The planned activities will not only help the volunteers to learn and grow, but also they will contribute to strength the civil society in Macedonia as developing country.
There will be open space for the volunteers to implement their ideas to improve the quality of the project and encourage more and more youngsters to be active in the events delivered by them. During these experiences the volunteers as well as the youngsters will have intercultural learning in order to have a better understanding in each other culture.
Series of Monthly e-newsletters will be final product in this project which will consist each realized activity and methods done by the EVS.