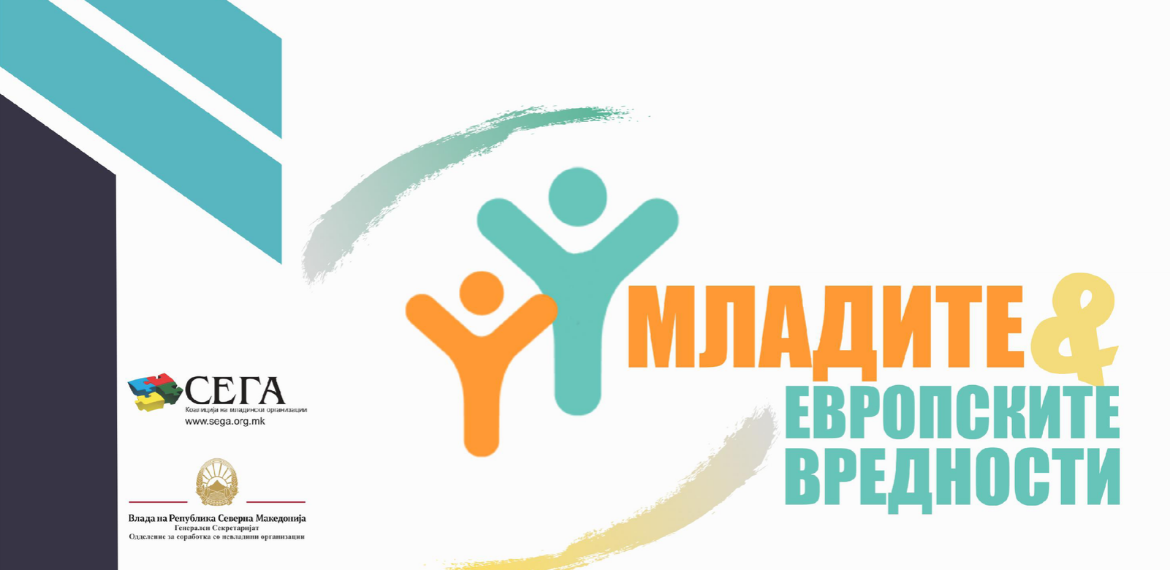 Youth and EU Values
Start: 20.10.2019 – End: 17.06.2020
Coalition of youth organizations SEGA is implementing the project Youth and EU Values which is funded by the Program for financing the program activities of the associations and foundations for 2019, of the Government of the Republic of Macedonia - General Secretariat, Department for Cooperation with NGOs.  
The goal of the project: Developed and sustainable civil society sector that adequately addresses the needs of young people in the Republic of Macedonia based on European trends and values
The objective of the project: Capacity of youth organizations in the Republic of Macedonia strengthened in line with European trends and practices to improve youth well-being.
The primary target group of the project are youth organizations and organizations working with youth. Final beneficiaries of the project are young people aged 15-29 living in R. N. Macedonia.
Analyzing the identified problems, the environmental analysis, the experiences from the previously implemented activities and projects we realized that a systematic approach is needed to solve the identified problems, with strategies that would have an impact on improving the functioning of the youth organizations in Macedonia.
In this regard, the project envisages a methodology that encompasses two key segments aimed at strengthening the organizational and program capacities of youth organizations in the Republic of Macedonia to improve the well-being of young people in line with European trends and practices. Through the project SEGA will work on the need's analysis of young people and youth organizations in relation to European practices. Based on the analysis it will strengthen the capacity of youth organizations to raise awareness of youth and organizations in promoting European values ​​and practices. With the proposed approach and methodology, we will contribute to developed and sustainable CSOs that can adequately respond to the needs of their target groups, and achieve their organizational goals.