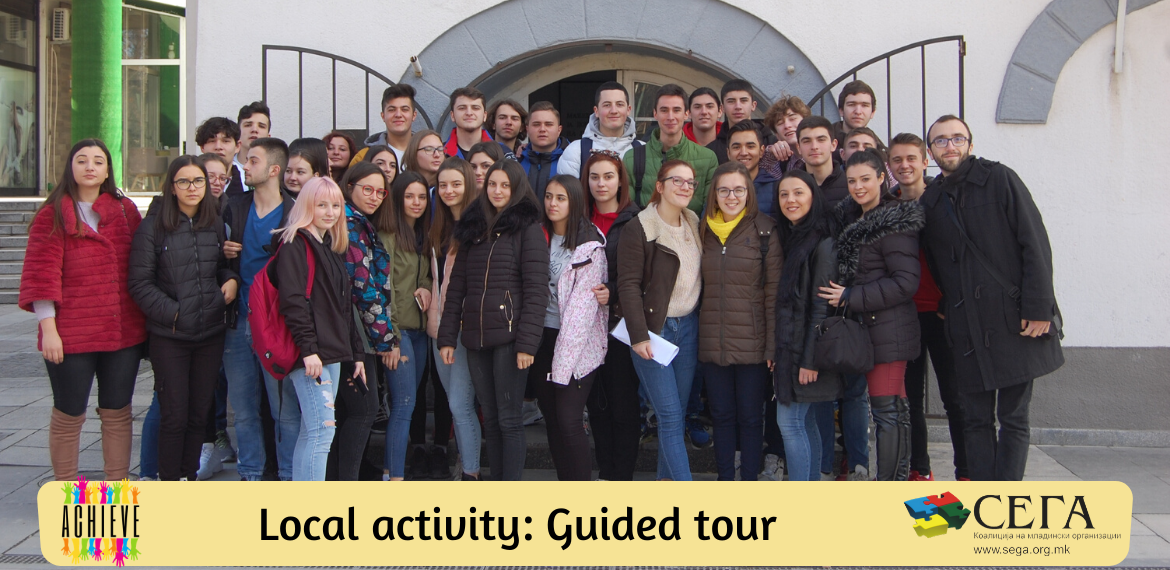 As Part of The Project ACHIVE Was Held A Local Activity "Guide Tour"
On 16th of December Coalition SEGA held a Local Activity "Guide Tour" as part of the project ACHIVE with the local volunteers in Memorial Museum "11 October" in center of Prilep and National Museum - Prilep.
Specific topic of this activity is Sharing Local Identity as a path to the EU perspectives and diversity.
The Guided tour - local youth with support of SEGA's team chose two spots for the tour. That was small excursion to the 2 local historical spots Memorial Museum "11 October" and National Museum that are interesting for youth in the Municipality of Prilep. During the guided tour were used different unformal methods to introduce both historical spots and EU diversity to the local youth (games, quizzes, treasure hunt etc.). Also, was filmed two young people (the storytellers) that told some stories about the both chosen historical spots in Prilep.
Objectives of the project:
Raise awareness to the common memory, history and values of EU countries and to the EU objectives (like peace promotion), its values and the wellbeing of its inhabitants through debates, reflections and networks
Encourage civic and democratic participation of citizens at EU level by developing their knowledge on the process of political elaboration of EU and promoting opportunities of civic, volunteer or intercultural engagement at EU level.
Lead applicant of this project is Breganze Municipality (Italy) and partner organizations are: Istituto Rezzara (IT), Association des Agences de la Democratie Locale (FR) , CRLDS - Centre for European Policy Studies on Regional and Local Development (AL) , RAM Central Stara Planina (BG) , Zavidovici Municipality (BIH), House of National Minorities (CZ) , Erdut Municipality(HR), Peje Municipality (KS), Coalition of youth organizations SEGA (MK), Herceg Novi Municipality (Montenegro), Mioveni Municipality (RO) , Cajetina Municipality (SER) & CEE CN (SK).
---