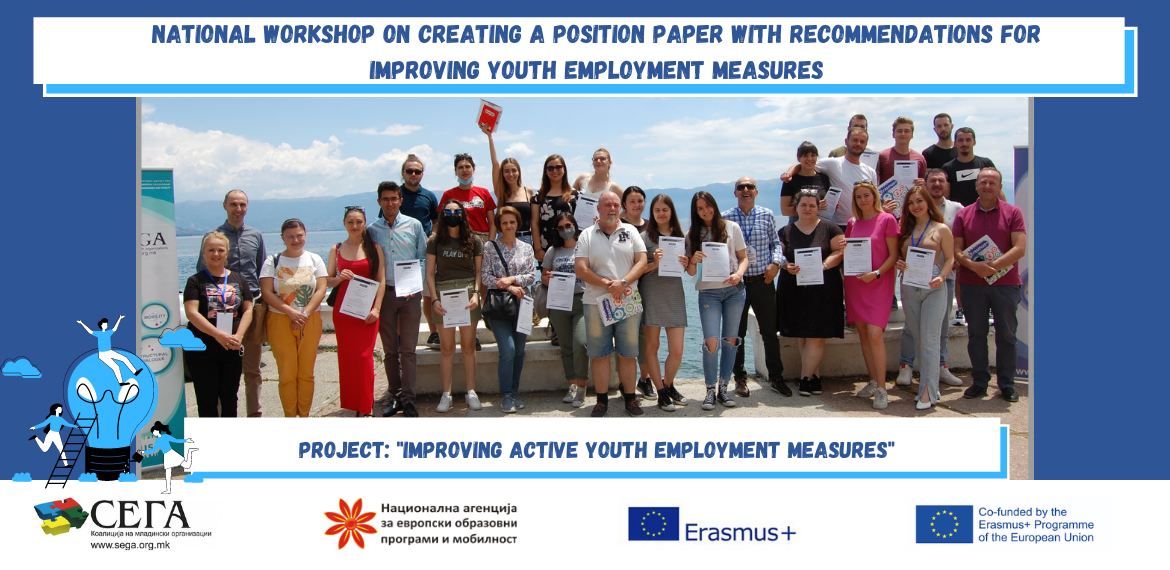 National Workshop for Creating a Position Paper with Recommendations for Improving the Measures for Youth Employment
In the period from June 30 to July 3, 2021, at the Hotel Biser in Struga, Coalition of Youth Organizations SEGA organized a National Workshop
for creating a Position Paper with recommendations for improving the measures for youth employment.
Through the activities of this workshop, communication was established between the decision makers and the youth and by applying the method of structural dialogue, recommendations for improvement of the measures for youth employment emerged, which was the goal of the National Workshop itself.
The event was attended by representatives of institutions, such as the Ministry of Education and Science, Employment Agency of the Republic of Northern Macedonia, Agency for Youth and Sports, representatives of civil society organizations and youth.
The workshop was organized within the project "Improvement of active measures for youth employment" (2020-3-MK01-KA347-094454) which is implemented by the Coalition of Youth Organizations SEGA with financial support from the National Agency for European Educational Programs and Mobility within Erasmus + Program, Key Action 3 Structural Dialogue.
---