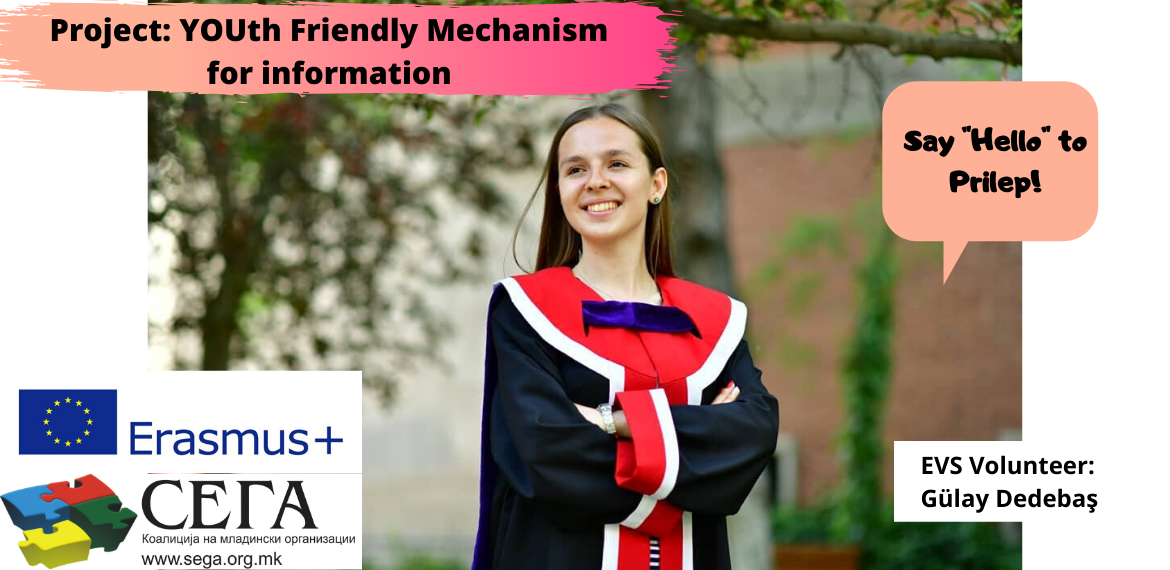 Say "Hello" to Prilep!
On Saturday, 23 of November,  I just opened my eyes and found myself in Skopje Airport and then on my way to Prilep, the city where I will live for a while. I was curious,excited and a little bit sad because my family, my friends and all the things I love in Turkey left behind.
I remember the first thing I thought, Prilep was not very different because there were small towns like Prilep in Turkey. Houses, streets, people were similar except signboards. They were all in Macedonian language and I do not know anything about this language so I was like "What? What kind of an alphabet is this? How can people read this?" I can say that it was my first culture shock. I started to worrying for myself because If I would get lost it was almost impossible to read the signboards and find my way. It was also the time that I was wondering whether Macedonian people can speak English or not because English was the second way for me to contact with people and figure things out. Questions were gradually increasing on my mind. Suddenly Angela showed up and saved me from endless questions.
On the way, we first met Lela and then went to Police Department. While Lela and police officer were talking I just felt so weird because I understood nothing except "Dobra!". I was wondering what dobra means because they were using this word a lot during conversation. After a while, I learnt what it means, dobra means OK.
Lela and Angela took me to my apartment, told me about heating system and other stuff about the flat. I have to admit, I did not understand anything because it was totally different than Turkey and very complicated. My first night at my flat was so hard because it is my first time in abroad and staying alone. Also, this big heater in living room was not working very well so the flat was frezzy. I was trying to convince myself that everything will be fine in time. 5 days passed since I came to Prilep. Hopefully, I feel more comfortable and happy because people here are friendly, they are like Turkish people, especially Angela and Lela are perfect, they are always there for me when I need something but of course, I still face many difficulties.
When I compare Macedonia and Prilep with Turkey and Balıkesir, population is very less than my country. People have a calmer life. Especially, when I compare Prilep with the city whre I study university, Prilep is sooo different. My university is in the capital of
Turkey, Ankara. Ankara is a very big city and very crowded. Any time of the day, when you go out, there are people on the streets, buses, taxis everywhere and it is always possible to see city lights. These are the things I love the most about capital cities. It might take time to get used to Prilep but I am sure I will leave from here with lots of memories and good friendships.
---