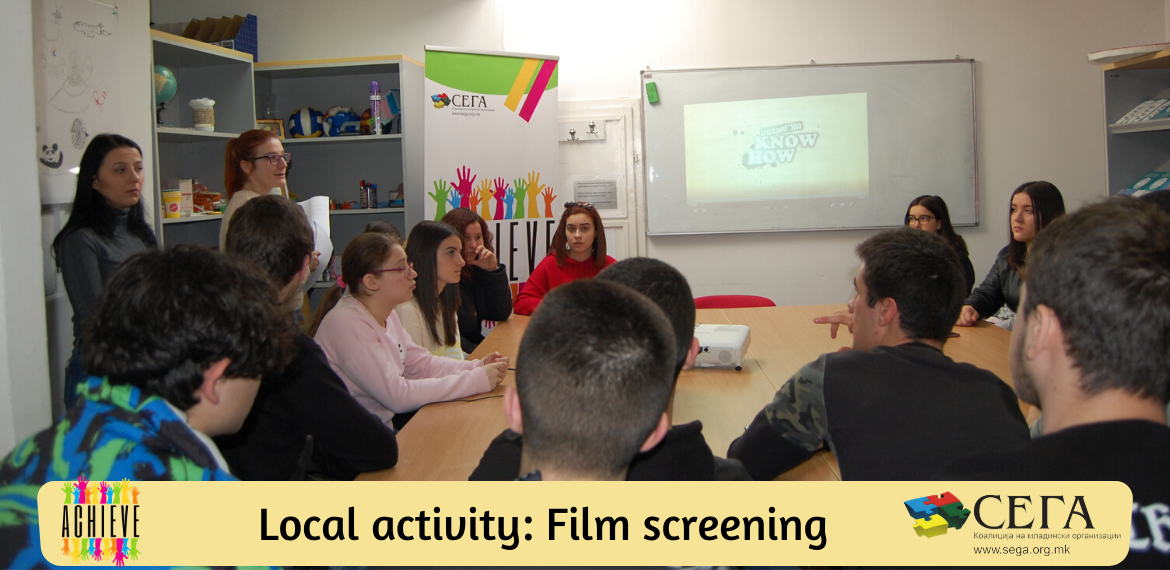 SEGA Held A Local Activity "Film Screening" As Part of The Project ACHIVE
On 18th of December in the premises of Coalition SEGA was held a Local Activity "Film Screening" as part of the project ACHIVE with the local young volunteers.
Film screening – was second activity of this project. With this event were engaged local youth and they can discover more about the Macedonian history, art and religion through the Macedonian movie: To the Hilt. Before we started with movie playing, we played some video presentations about the EU Identity and diversity, so youth were able to see much closer European Identity and learn more about the diversity. After the movie we developed short discussion with the participants about the local identity and its connections to the EU diversity.
ACHIEVE aims to develop the EU identity starting from a reflection on the common history, art and religions among cities from Central and South-Eastern Europe as a tool to fight growing Euroscepticism.
Lead applicant of this project is Breganze Municipality (Italy) and partner organizations are: Istituto Rezzara (IT), Association des Agences de la Democratie Locale (FR) , CRLDS - Centre for European Policy Studies on Regional and Local Development (AL) , RAM Central Stara Planina (BG) , Zavidovici Municipality (BIH), House of National Minorities (CZ) , Erdut Municipality(HR), Peje Municipality (KS), Coalition of youth organizations SEGA (MK), Herceg Novi Municipality (Montenegro), Mioveni Municipality (RO) , Cajetina Municipality (SER) & CEE CN (SK).
---