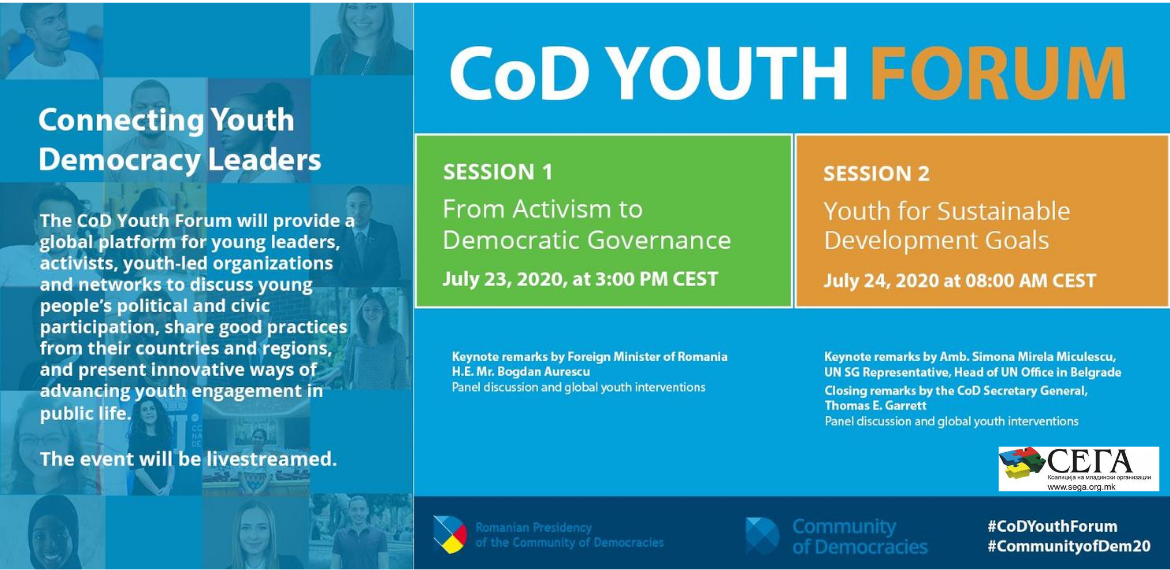 Community of Democracies' Youth Forum
As the 2019-2021 Presidency of the Community of Democracies, Romania has identified youth inclusion and empowerment as a priority.
This priority is shared within the CoD's Governing Council, which set youth empowerment as a cross-cutting theme of all activities of the CoD's Strategic Plan 2018-2023.
The CoD Youth Forum is a global platform for the participation of representatives of youth-led organizations and networks. The Forum will aim at sharing good practices across the world regarding youth political and civic participation, presenting innovative ways on how to further the priorities of youth and multiplying youth voices. The Forum will be held in a digital format using Cisco WEBEX.
Monika Ilioska Kantardzioska nominated as a Youth Leader is representing our country as part of the #CoDYouthLeads Campaign to mark the 20th anniversary of the Warsaw Declaration.
Today at 15.00 and tomorrow at 08.00 (July 23-24) a Youth Forum (# 𝐂𝐨𝐃𝐘𝐨𝐮𝐭𝐡𝐅𝐨𝐫𝐮𝐦) is organized which is an exceptional opportunity for all youth organizations, youth, youth activists and leaders, as well as youth of political parties.
You can participate in the Youth Forum # 𝐂𝐨𝐃𝐘𝐨𝐮𝐭𝐡𝐅𝐨𝐫𝐮𝐦 and get involved in the discussion on democratic governance and development with your colleagues and peers from all continents.
Information for registration:
Session 1: 𝐅𝐫𝐨𝐦 𝐀𝐜𝐭𝐢𝐯𝐢𝐬𝐦 𝐭𝐨 𝐃𝐞𝐦𝐨𝐜𝐫𝐚𝐭𝐢𝐜 𝐆𝐨𝐯𝐞𝐫𝐧𝐚𝐧𝐜𝐞 (23rd July 2020 – 15.00)
Session 2: 𝐘𝐨𝐮𝐭𝐡 𝐟𝐨𝐫 𝐒𝐮𝐬𝐭𝐚𝐢𝐧𝐚𝐛𝐥𝐞 𝐃𝐞𝐯𝐞𝐥𝐨𝐩𝐦𝐞𝐧𝐭 𝐆𝐨𝐚𝐥𝐬 (24thJuly 2020 – 08.00)
The Youth Forum is organized by the Romanian Presidency and the Secretariat of the Community of Democracies - an intergovernmental organization of which our country is a member.
---