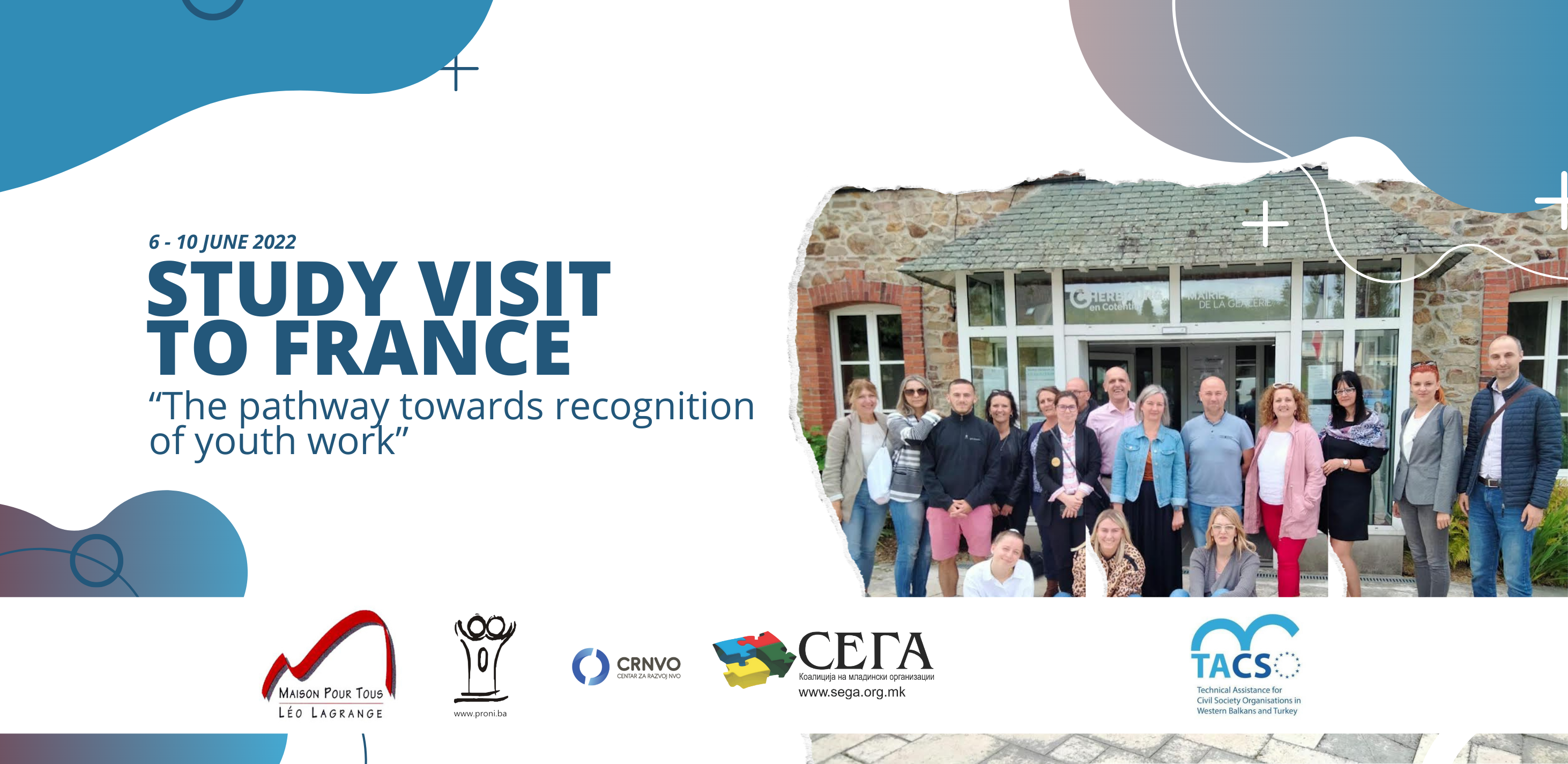 Study visit to France "The pathway towards recognition of youth work"
SEGA realized P2P event – Study visit to France - "The pathway towards recognition of youth work".
The pathway towards recognition of youth work was as a five-day study visit taking place in France region of Normandy. The study visit provided information about the regulation of the youth work, accreditation and standards, the services for young people, available training programmes for youth workers, as well as the roles and responsibilities of the institutions in the implementation of the youth work standards and legislation.
Ten participants from North Macedonia, Bosnia and Herzegovina and Montenegro were part of the study visit, coming from civil society organizations and relevant state institutions such as the Agency for Youth and Sport and Center for Lifelong Learning from North Macedonia, a representative of a Municipality of Podgorica, Montenegro, and a representative of the Ministry of Civil Affairs from Bosnia and Herzegovina.
The event aims to introduce the youth CSOs and relevant institutions from Western Balkan countries with youth policies and youth work models in France, focusing on vocational institutions teaching youth work and youth work in practice. Related to the conducive environment of the P2P program, the project will enhance the dialogue with public authorities and influence the decision-making process. According to the objectives of the European Youth Work Agenda and European Youth Strategy, there are continuous needs and new challenges to be still identified in the youth work. One of the objectives of the Agenda is establishing youth work as an essential part of youth policies, strengthening the common ground of youth work through cooperation between and beyond the youth work communities of practice, enhancing the promotion and recognition of youth work, and ensuring a strong role for youth work in the new normal.
The study visit was multilateral cooperation between the youth organizations from France, North Macedonia, Bosnia and Herzegovina, and Montenegro.
The following activities were realized:
Presentation of the youth work model of France and presentation of the elements of youth work in North Macedonia, Bosnia and Herzegovina, and Montenegro;
Visits to the youth information points, training providers, and providers of youth services;
Meetings with the municipal department of youth in the Municipality of Chebourgen Cotentin
Joint discussions and exchange of experiences between youth workers from the participating organizations and those from France.
The event was realized with the support of P2P program and TACSO office from North Macedonia.
---