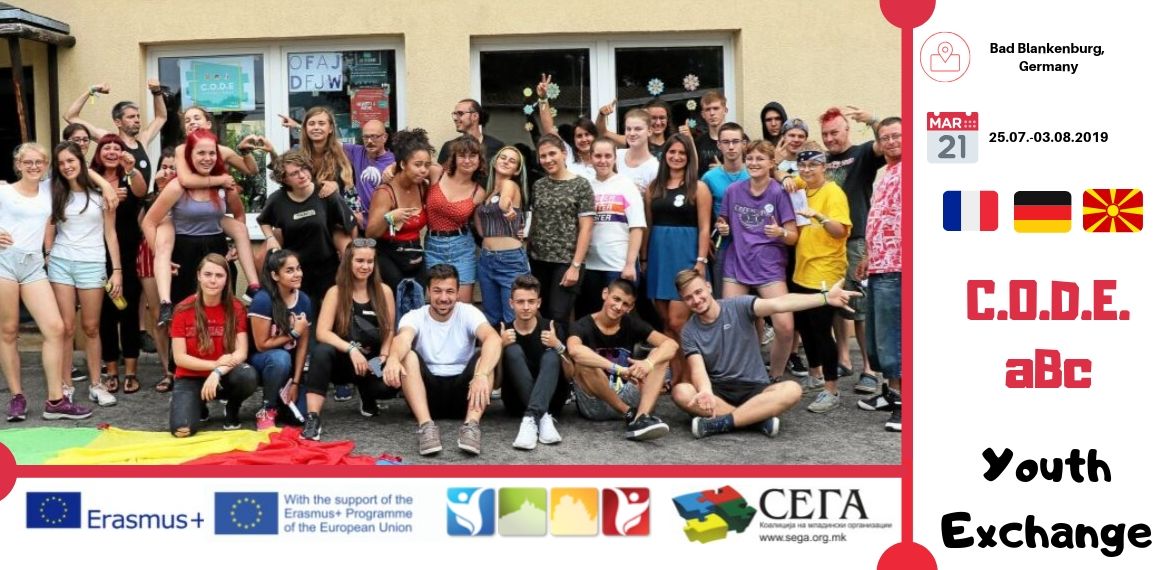 Youth Exchange Was Held Within the Project C.O.D.E. aBc in Bad Blankenburg, Germany
In the period from 25th July till 03th of August 2019 a youth exchange was held in Bad Blankenburg and Erfurt, Germany as part of the C.O.D.E. aBc project (Courage to Open Doors of Europe / Attention, Be Curious). The exchange had a total of 30 participants, including 8 young people aged 14 to 18 and 2 team leaders from Macedonia.
At the exchange the participants were part of the workshops on the following topics: Intercultural Learning, Discrimination and Human Rights. In addition to the creative workshops, participants had excursions, visits to youth centers in Bad Blankenburg and Erfurt, and other activities such as rowing, graffiti drawing, clothing design and sightseeing in lesser-known parts of Erfurt.
The purpose of this project is to actively engage young people in open workshops and discussions to open their hearts, heads and hands, respectively, to broaden their perspectives, to transcend boundaries and differences, to eradicate discrimination and respect human rights.
C.O.D.E. aBc is a long-term project (2019/2020) involving the Coalition of youth organizations SEGA, Landesjugendwerk der AWO Thüringen from Germany and Maison Pour Tous Leo Lagrange from France.
---